Stationery
Investing in good quality office supplies would make work for your employees more enjoyable
We offer our customers an extensive range of high quality stationery.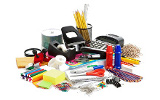 In order to help our customers bring their operational costs down, we stock an extensive range of stationery which includes: pens, files, paper, envelopes, staplers and much more. We always insure that we supply high quality items at the lowest prices possible. If you are unsure of what products or models suits your business we can assist you to choose the best product fit for your individual circumstances.
We supply stationery from all major manufacturers. This includes: Q-Connect, 3M, Expo, Paper Mate and many more. The choice of brand and system is down to customers choice, special circumstances and need.
Please contact us for more information and help as to the right product for your workplace.