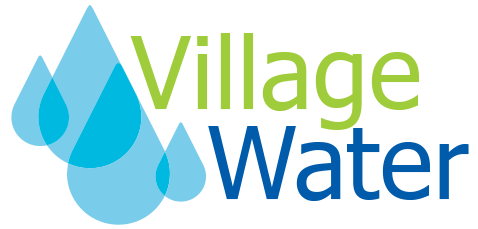 Since 2014 we have supported the work and activities of Village Water, a Shrewsbury based charity whose mission is to put lasting safe water, sanitation and hygiene education at the heart of community development in Africa.
As a supplier of cleaning and hygiene products, we are naturally committed to promoting good hygiene practices. Our support for the work of Village Water arises from our belief that we have a responsibility to help promote the adoption of good practice as widely as possible and in all parts of the world, particularly in those communities where the benefits of hygiene education can easily and simply transform daily lives for the better.
For over a decade, Village Water has been improving lives in rural Zambia through the provision of safe water and hygiene education, supporting activities in more than 540 villages and 20 schools, and bringing benefits to over 150,000 people.  Village Water firmly believes in giving people the means to help themselves. They don't just install a new clean water point, but also provide communities with the essential hygiene education so that they can adopt improved sanitation practices. The reasoning is simple: if communities don't change their hygiene practices, even with safe water, they will still suffer from diarrhoeal diseases and other illnesses which will prevent the adults from working and their children attending school.
Adopting good hygiene practices requires that all the people within the community contribute to the solution. Experience shows that this leads to a lasting, safe and clean water solution for those communities, with a wide range of sustainable healthcare, wellbeing and economic benefits.
The starting point in a village who wants to work with Village Water is to setup a 'Water Committee' with representatives from the village community, who will oversee the project, encourage people to change poor hygiene practices and collect a small fee from the villagers, to set aside for future pump repairs and maintenance.
Once the Water Committee is established, Village Water leads hygiene and sanitation training sessions amongst all the villagers. As part of this, demonstration facilities are built, including a latrine with tap and bath shelter. Village Water then funds and arranges the construction of a well and hand pump; with the village itself contributing gravel, sand and labour. The quality of the water is tested in order to ensure that it is safe. Two villagers are trained by Village Water so that they can maintain and repair the new water point. In addition, every household builds their own latrine, bath shelter, pot rack, mortar stand and rubbish pit. Regular follow-up visits by Village Water are organised to support the community and ensure that the benefits are lasting.
As shown by research undertaken by the World Health Organisation, the most immediate and direct benefit to flow from the provision of safe water and improved hygiene practices is that the risk of death from water-related diseases can be reduced by an average of 65%.  The lasting reduction in the incidence of a variety of water related diseases as a result of the work of Village Water is significant, especially for a selection of villages in the Mongu District, Western Province of Zambia.
As well as improved health and quality of life, there are significant economic benefits from the reduction in water-related illnesses:
Healthier parents can work longer and are more productive and generally have more energy to focus on the needs of their families.
Healthier children attend school more regularly and are better able to concentrate and learn. Girls are also more likely to stay in school after starting puberty if they have access to good sanitation facilities at home and school.
Impact of Village Water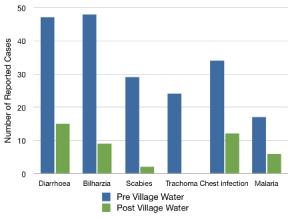 Over 90% of all funds raised by Village Water are put directly to charitable activities.
The money raised is used in many ways, for example:
£1 provides two tippy taps used for hand washing.
£10 provides chlorination treatment for 25 wells to kill remaining bacteria once a well is built.
£250 provides a full tool kit to enable repairs and maintenance to be carried on wells and pumps.
£4,100 provides a village of 160 people with safe water and sanitation for up to fifteen years.
Cherwell have planned a range of fund raising and promotional activities, including:
A turnover related financial donation each year.
Holding workplace challenges and competitions.
Volunteering activities.
Raising the profile of Village Water amongst both customers and suppliers.
Full details of our fund raising activities will be posted on this website and our social media pages.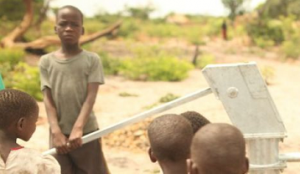 Please contact us or Village Water directly if you would like to help with fund raising activities.
Alternatively,  if you would like to make a donation, you can donate securely online through Village Water website , or alternatively you can donate through the Just Giving website.
Village Water are a registered charity, number 1117377.
Further details of their charitable status, work, funding and organisational structure can be found on the Village Water website at www.villagewater.org.
For media enquiries, please contact Rachel Cooper on 01743 241563 or rachel@villagewater.org.