Kitchen Cleaners
Kitchen hygiene is one of the main if not the main priority of a business.
We offer our customers an extensive range of high quality kitchen cleaners.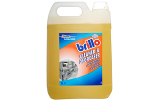 It is of vital importance to keep kitchens and food preparation areas to the highest standard of hygiene, to keep in line tough regulations and guidelines in place surrounding them. To help our customers achieve this level of hygiene, we stock a range of cleaners with different properties to suit your specific kitchen needs. From quick and effective sprays and wipes, to sanitisers, furniture polish and glass cleaner. We are also able to help you choose the right product for your business.
Kitchen cleaners 
suppliers
We supply kitchen cleaners from all major manufacturers. This includes: Diversey, Nationwide, P&G, Reckit Benckiser and Seldon. The choice of brand is down to customers choice, special circumstances and need.
Please contact us for more information and help as to the right product for your workplace.