Cleaning Trolleys
Unglamorous they may be, but an effective, hard wearing set of janitorial equipment for your cleaning staff can improve on the productivity of your business.
We offer our customers an extensive range of high quality cleaning trolleys.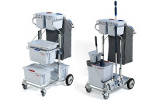 Effective transportation of cleaning materials and chemicals is essential for productivity as well as safety. Our cleaning trolleys have a range of different functions depending on you specific janitorial needs. Accessories can include flame retardant waste bags, mopping units, lockable storage units and sundry buckets.
Cleaning trolleys
suppliers
We supply cleaning trolleys from all major manufacturers. This includes: Contico, Numatic, Rubbermaid and Vileda. The choice of brand and system is down to customers choice, special circumstances and need.
Please contact us for more information and help as to the right product for your workplace.