First Aid Boxes
By following safe working practices, you can avoid major accidents in the workplace, but for those everyday minor accidents we provide assurance and help in the form of first aid kits and accessories.
We offer our customers an extensive range of high quality first aid boxes.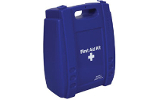 We stock a range of different first aid boxes to suit your organisations every need. It is recommended for the safety of your employees that every business has an appropriate first aid box on site. What makes the box appropriate is dependent on risk factors and number of employees, here at Cherwell we know we can help you find the right equipment for you, whether it standard or specialist.
First aid boxes 
suppliers
We supply first aid boxes from all major manufacturers. This includes: Robinson Healthcare and Synergy health. The choice of brand and system is down to customers choice, special circumstances and need.
Please contact us for more information and help as to the right product for your workplace.