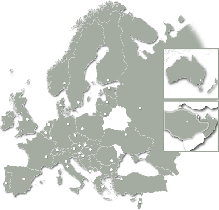 INPACS is a pan-European organisation consisting of 35 national partners. Each national partner, in turn, is owned by a varying number of local, independent, family-owned businesses. The INPACS partner in the UK is Nationwide Hygiene Supplies, and Cherwell are a shareholder member of Nationwide Hygiene Supplies.
Some idea of the scale of INPACS can be seen from the following numbers:
| | |
| --- | --- |
| Countries represented: | 35 |
| Company branches: | 350 |
| Sales | £2,500m |
| Employees: | 7,500 |
| Customer locations | 800,000 |
The benefits of INPACS for our customers
INPACS came into existence in 2004 in order to provide an integrated pan-European supply solution for customers and suppliers alike. As a customer of Cherwell, you are also in effect a customer of INPACS and enjoy the following major benefits.
Competitive prices
Based on both the aggregate purchasing power of all INPACS member of around £1.8 billion and a wide range of exclusive "best in market" European supplier agreements, we enjoy some of the best purchasing prices in the market which we pass onto our customers in highly competitive prices.
One stop shop

In addition, INPACS members enjoy access to a very wide range of suppliers and products, specialist and otherwise, always on the best supply terms. Accordingly, we can offer you a complete, one-stop solution for your cleaning, hygiene, and PPE needs without compromising cost, quality or service.
Unrivalled expertise
As a result of our close working with our partner members in Europe, we have established a significant pool of specialist resources and considerable expertise in cleaning and hygiene matters in all sectors of the market. Furthermore, all sales and customer service teams receive extensive technical and product training. You can always be confident that we can quickly find a solution for your most intractable cleaning and hygiene problems.
Want to know more?
If you would like to know more about INPACS visit www.inpacs.com